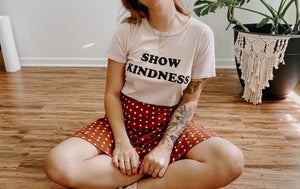 Show Kindness | Rose
Sale price Price $20.00 Regular price $34.00
Show Kindness
• Made in Los Angeles.
• 100% organic cotton. 
• Hand printed with baby safe ink. 
• Custom-cut, garment dyed, pre-shrunk goodness!
• Suggestions: wash with like colors, delicate cycle. 
I created this design shortly after my dad passed away. Everything about him was kind.
His heart. His smile. His hug. His laugh.
The thing I loved most about him was that he didn't keep his kindness to himself. He shared it everywhere & anywhere. It was effortless for him.
To be honest, I'd say I have a kind heart but I don't always show it. Stress & distraction can do that. We get so wrapped up in our own thoughts/life that we neglect opportunities to be kind.
Holding the door open for someone at the grocery store, smiling at a stranger in the airport, or waving to a neighbor. We are presented with these moments everyday. How many of them are we missing? Or what about kindness in our home? Like the chance to connect with our spouse by genuinely asking how their day was. Or maybe the way we interact and communicate with our children.
That's the beautiful thing about kindness, it's completely up to you to choose it. I don't just want to be kind. I want to show it. Bc kindness isn't meant for me, it's meant to be shared.
My hope is that this tee would be a reminder for you to live kind.
I am so thankful for a dad who brought kindness into our home day in & day out. It definitely shaped who I am today. I pray my actions would align with my heart. That my family would look back on these years and know me to be a kind mother, kind wife, kind human.